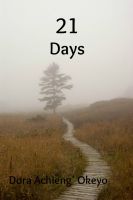 21 Days
by Dora Okeyo
I found him on the first day. He was walking towards my table at the restaurant. The place was full except for the seat beside me. I cringed at the thought of sharing my table with someone, worse off a guy. What if I chewed too loudly?"
Zora met Jack on the first day.
Jack met her on the second day.
Their romance is a countdown of dates with each telling their own version of what they found from the other on each day.
Question is: Will they keep each other at the end of it all?
Short Stories Week Review
This story is written in chronological order, Day One all the way to Day Twenty-One.  Ms. Okeyo writes out a story told between two individuals who meet quite by luck at a restaurant, and who then get to know each other.  The main characters, Zora and Jack, tell the story from their perspectives, moving from the shyness and jitters of the first meet in a relationship, to hurt emotions created by misunderstandings, and then the getting to know each other better part.  However, Jack keeps a huge secret, that is subtly hinted at by Zora's friends and those who know Zora.  When it finally comes to light, it breaks them apart, but the reasons why Zora decides to call it quits have a lot to do with trust, and not the secret itself.
This story rang true for me because of the experiences I've seen friends go through.  When you're getting to know someone, it never is what he's done in the past, but whether he trusted you enough to tell you about that past.  Giving you the chance to make your own choice, instead of making the choice for you, because of how you'll react or what you'll think.  It was nice to read a relationship from such a perspective.  Love can exist in different forms.
Please have a read of this story that is readily available on Smashwords on this link : 21 Days
About Dora Okeyo
Visit her blog : Dora Jodie
Dora's facebook page: Dora Okeyo
Follow her on Twitter: @herhar